[wpsm_titlebox title="Why CIT Bank?" style="3″]When choosing an online bank for high-yield savings, the number one factor you should look for is the interest rate. Online-only banks don't have physical branches or the cost of those branches. That means the costs savings can be funneled back to their customers. Hence, the interest rate at CIT Bank is much higher than your local bank. Of all the high-yield money market accounts provided by online banks, CIT Banks is consistently at the top of the list for the highest rate in the business. On top of that, every time the Federal Reserve raises rates, CIT Bank raises their rates in tandem. CIT Bank has committed to providing the highest yielding online bank account. And they'll likely continue to, or else their customers will leave. On top of being the highest yielding account, CIT Bank offers
impeccable security
, an
easy-to-use website
, and
excellent customer service
[/wpsm_titlebox]
[wpsm_titlebox title="CIT Bank Review – Opening an Account" style="3″]Here are the steps to open an account:

Choose a Product
After beginning your application, you'll be prompted to select an account type. At this point, you should already know what kind of account you want to open. I've chosen the money market account because I want a long-term bank account for transferring cash out of checking into a high-yield account. The rate typically rises when the Federal Reserve raises rates. For a higher yield, explore the CD types from the homepage.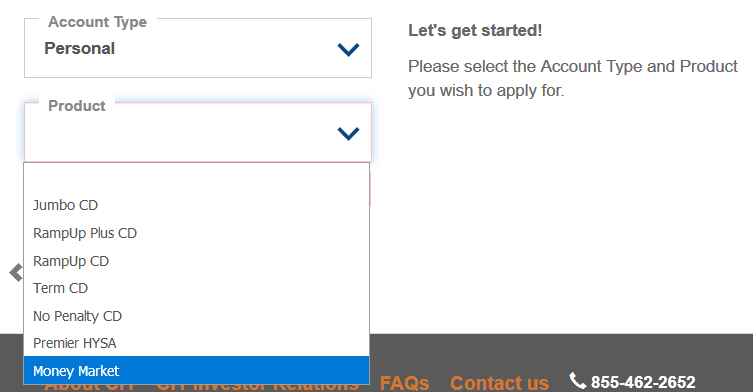 Enter your Personal Information (Individual or Joint)
Next, it's time to enter your personal information. This is the standard name, address, SSN required to open an account. You'll enter the primary account holder first. Then enter the joint account holder's information.
Two Factor Authentication
CIT Bank uses strong security throughout the signup process to verify you are who you are. You'll sign off and log back in as a security step. It utilizes a phone or text message to send you a 5-digit code which is then input after filling in your login information, but before typing your password. The extra step is to ensure security. You'll do this the first time you use a new device (computer, smartphone, or tablet), and sometimes when you make a transfer. I found this process to be quite simple. So simple, in fact, that my parents could do it without too much trouble and they are in their 70's and barely know how to send text messages. This can seem excessive early on, but after you do it a few times, only a password is needed.
Verifying Identity
To prevent fraud and secure your account, CIT performs an identity check based on information about you based on your taxpayer identification number. The identity check is a list of simple questions about you. For example, I was asked what streets I had previously lived on and what companies I have accounts with. When I answered the questions correctly, my identity was confirmed and my account opened. However, I also assisted my parents with opening accounts. When we got to this questioning section, we didn't know the answer to the question
What street is closest to your home?
We chose not to answer and were required to verify their identity another way. The message said this could take 3-5 business days for CIT to get in touch with us. It turned out, my parents received an email that day that asked my mother to verify her identity by securing uploading a picture of her driver's license to the documents section of the website. The next day the account was approved.
The First Deposit
During the signup process, you'll be prompted to make your first deposit from another account. Enter the routing number and account number of the account you're transferring from. Then the amount. CIT Bank allows up to 10 linked bank accounts. You can add more once your account is fully opened. Once you've started the initial deposit process, you'll need to verify your linked account before the money is actually transferred. The bank uses a two-step micro deposit and verification to securely link the accounts.
Micro-Deposits
CIT uses a standard ACH transfer to move money between accounts. The bank made two small deposits to my checking account the day after I opened my account. Then it immediately withdrew the funds. I then logged into my CIT Bank Money Market account to verify the deposit amounts and the external account was verified and ready to use.[/wpsm_titlebox]